Working within the PR industry since 2014, my team has spent over one million dollars on various Public Relations tools.
The cost for these sometimes necessary tools goes up every few years – and so does the average cost for a PR firm. Many small businesses are unable to find budget for PR work
The majority of the tools I use for PR outreach, campaign management, analytics and data analysis are custom built. However there are many free PR tools that I rely on.
These tools are strong enough to take the place of a full PR agency. This free PR tool stack will charge your DIY PR campaign to compete against the biggest brands.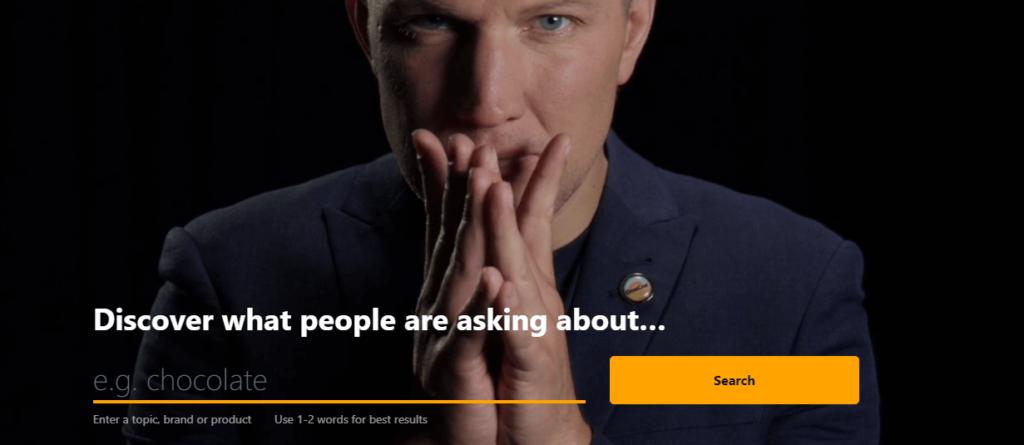 Although they have recently strayed away from their homepage mascot – AnswerThePublic will always remain in my PR stack. ATP is a free consumer insight tool that pulls in all the ways people are searching for answers around your target topic.
Great for: Content ideas, planning, insights, publicity, media relations, branded and owned media and influencer relations.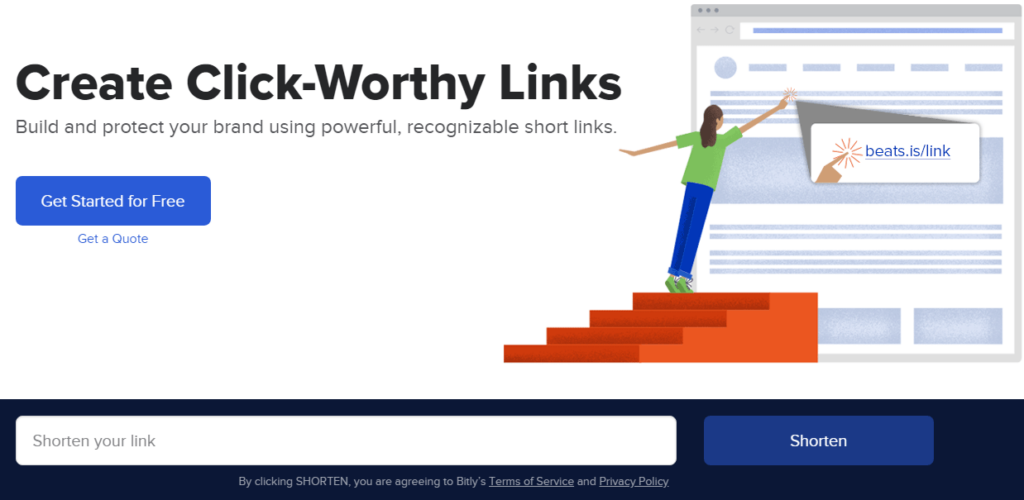 Using URL shorteners on all links in your PR campaign gives insight on click through rate and total opens on all URLs. Bit.ly and shortened URLs in general will help you understand the success of media coverage and give you more characters for your social media updates.
Great for: Branded media, owned media, analytics, PR measurement, social media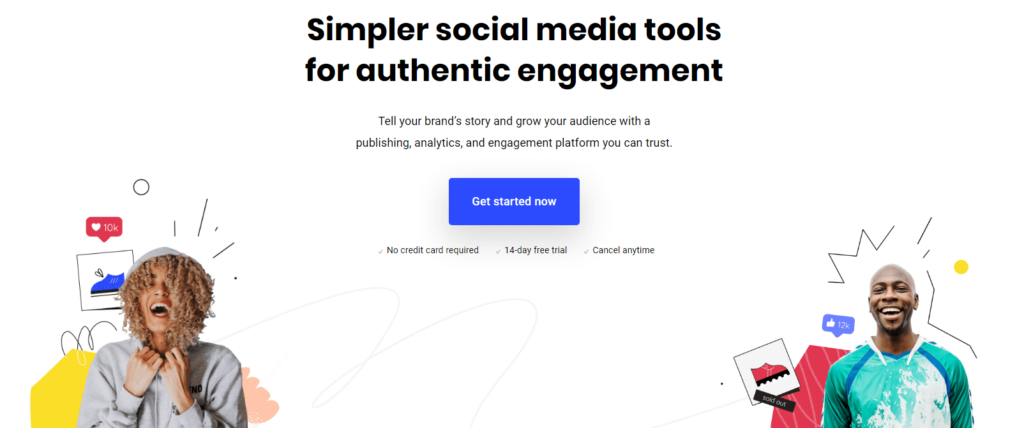 Buffer is a really easy to use social media management and scheduling tool. The built in analytics and dashboard, gives a great starting point for your free PR stack.
Great for: Social media management, content calendar, brand promotion

Use buzzsumo to see the top performing content for any keyword or website. This is helpful in identifying content opportunities and building your outreach list of journalists that are already covering your targeted industry. There's no reason to reinvent the wheel – brainstorming new angles for your PR campaign or finding new journalists or influencers to work with is very easy with buzzsumo.
Great for: Content strategy, influencer marketing, media list building, outreach
Canva's slogan is 'Design Anything', and I'll tell you – they are not lying about that. I have used Canva to design everything from trade show booths, business cards, proposals, social media updates and more. There are paid options for certain design and add-ons, but you will be able to get the majority of the graphic design work for your PR campaign done using only Canva.
Great for: Social media, posters, presentations, branded graphics, blog imagery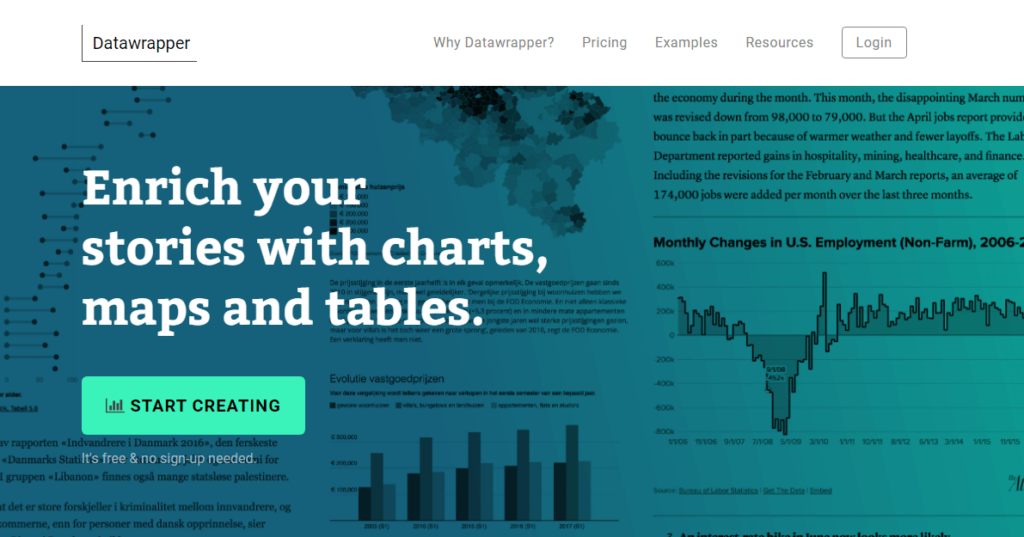 If you are looking to build a TON of links to your PR campaign – while ALSO making your outreach list of sites more beautiful – datawrapper will be your go-to. Datawrapper's free option will make your data beautiful and interactive. It's a win-win when your PR outreach will help make the internet more beautiful.
Great for: Charts, tables, maps, turning your campaigns research into a magnet for PR coverage and links.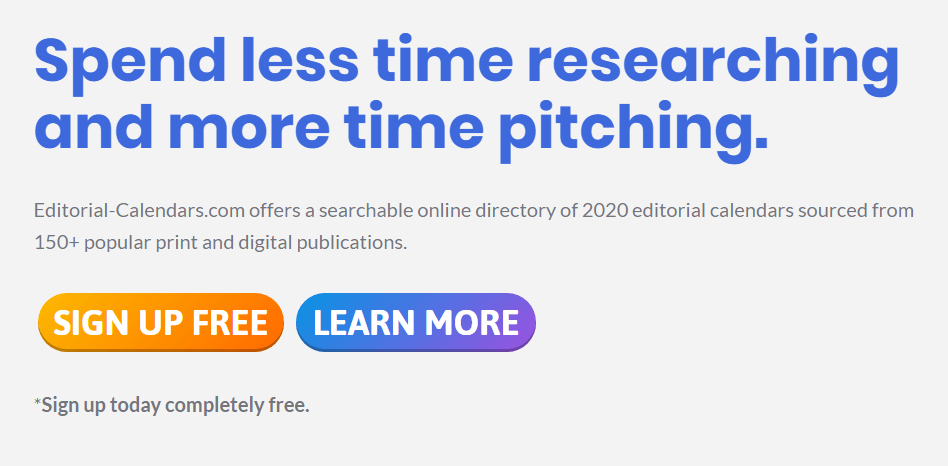 Newly added to my free marketing stack – Editorial-Calendar.com pools together content calendars from many of the top publications. To truly get a sense of how powerful this tool is, take a look at the below.
If I was looking for PR coverage for Food & Beverage Lifestyle I can easily filter through the publications that are running stories that make sense to my brand. Imagine with one simple search you can perform a targeted outreach campaign to Edible NY, NY Magazine and NY Times – all through one simple + free portal!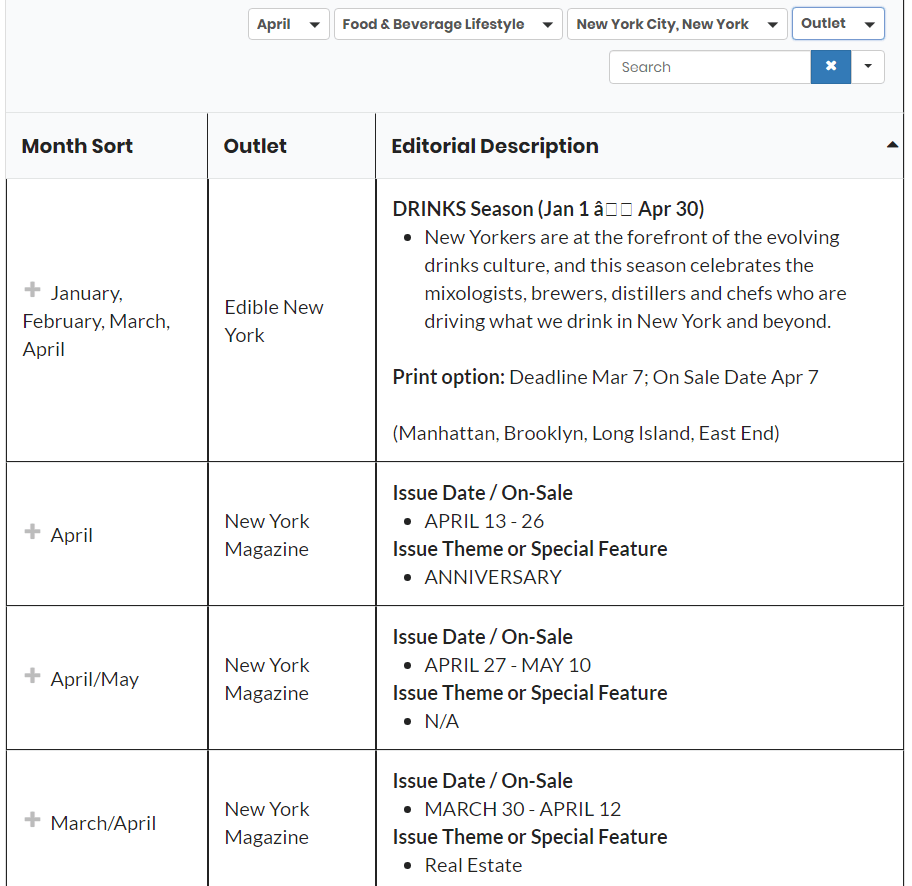 Great for: Outreach, long form PR leads, relationship building, media lists

Step #1 for a PR campaign should be setting up Google Alerts for all variations for the brands name. Google Alerts sends you an email as frequent as you like anytime a website publishes news about your brand. Anytime your brand is mentioned, but not linked to; you can email these sites for a link back to your site. You can also put in alerts for your competitors. This allows you to get a daily update of all events in your industry.
Great for: Brand monitoring, outreach, competitive analysis.
Honorable mention for the entire Google Suite of products. I only list Google Alerts here, but a free PR stack definitely can't be without: docs, sheets, search console, google analytics and google trends.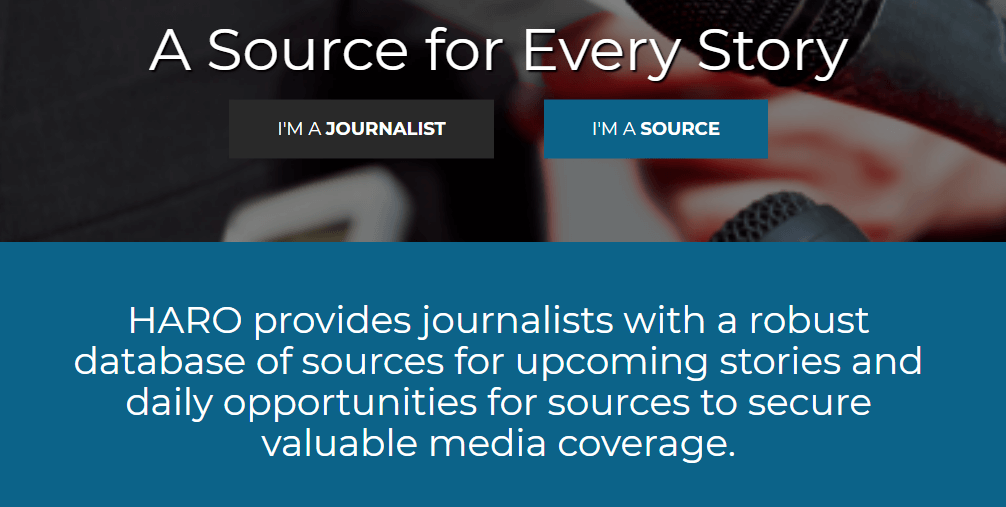 Establishing expertise and authority in your PR campaign comes easy when using HARO. With HARO we are able to directly connect with journalists who are putting together stories, and are seeking expert commentary to source within the content. If you monitor HARO closely you will find dozens of high quality opportunities each month for PR placements and a link.
Great for: Reactive media, expert commentary, link building, relationship building, press
Free HARO Alternatives: Qwoted

There are many task management tools on the market, but Trello is my favorite out of the box and completely free solution. Trello's design and interface are very intuitive and feature a drag and drop functionality to prioritizing and keep track of work in progress. Being able to share files within your Trello group – allows me to not bother with services like Dropbox anymore.
Great for: Task management, campaign progress, file sharing, internal communication
---
Did I miss a great free Public Relations tool to add to the free PR tool stack? Are you unable to afford a PR Agency and are looking for free PR help?
Contact me on Twitter to learn how to automate a completely free DIY PR campaign that will help you compete with top brands!